Project Lead Ben Unterman
Project Coordinator Sean Arden
Basically Good Media Lab @ Emily Carr
January 2020 - March 2020
Furrion Exobionics holds the world record for largest tetrapod mech. Jonathan Tippett, the creator and mad scientist behind this Vancouver based project is developing a fleet of these machines to race in a brand new sport. From building this mech for almost 10 years the team slowly made improvements to the point that they currently are able to increase the usability of information the pilot has accessible to them, at the moment Prosthesis (the name of the first mech in the fleet) uses a mix of dashboard analog gauges and dials, some no longer being used as the product has progressed further in development. the team approached the Emily Carr University's

Basically Good Media Lab

 in January 2020 with the task of bringing forward this and all other sensor data into a real time display and data visualization. Our team of 4 (2 faculty, myself and Azlen a NMSA student) took this 3 month co-creation project head on first building a framework to incorporate a digital display that will be powered by Unity, then pivoting to an analog live LED dashboard toward the last month and half of the project to monitor some of the most important elements when piloting this machine; temperature, oil pressure, efficiency, current and voltage. This page highlights some of the key points in the production of our ongoing project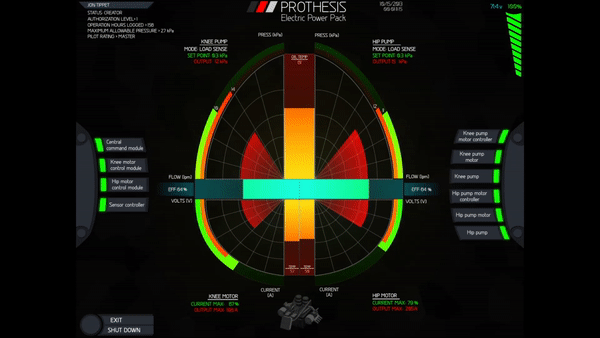 Early design reference that was provided by the Prothesis team shows values to focus on like the hydraulic pressure and flow, motor current and voltage, battery cell information and overall temperature. This design gave the machine a lifelike "breathing " to the values, showing a relationship to both left and right side of the mech.

After meeting with the team, we discussed the types of interfaces they wanted to embody with the mech. Finding science fiction references from media using flat design paired with some 3D imagery on the interface, we looked at formula 1 dashboards, trophy truck controls and cockpits modules from planes, loaders and excavators.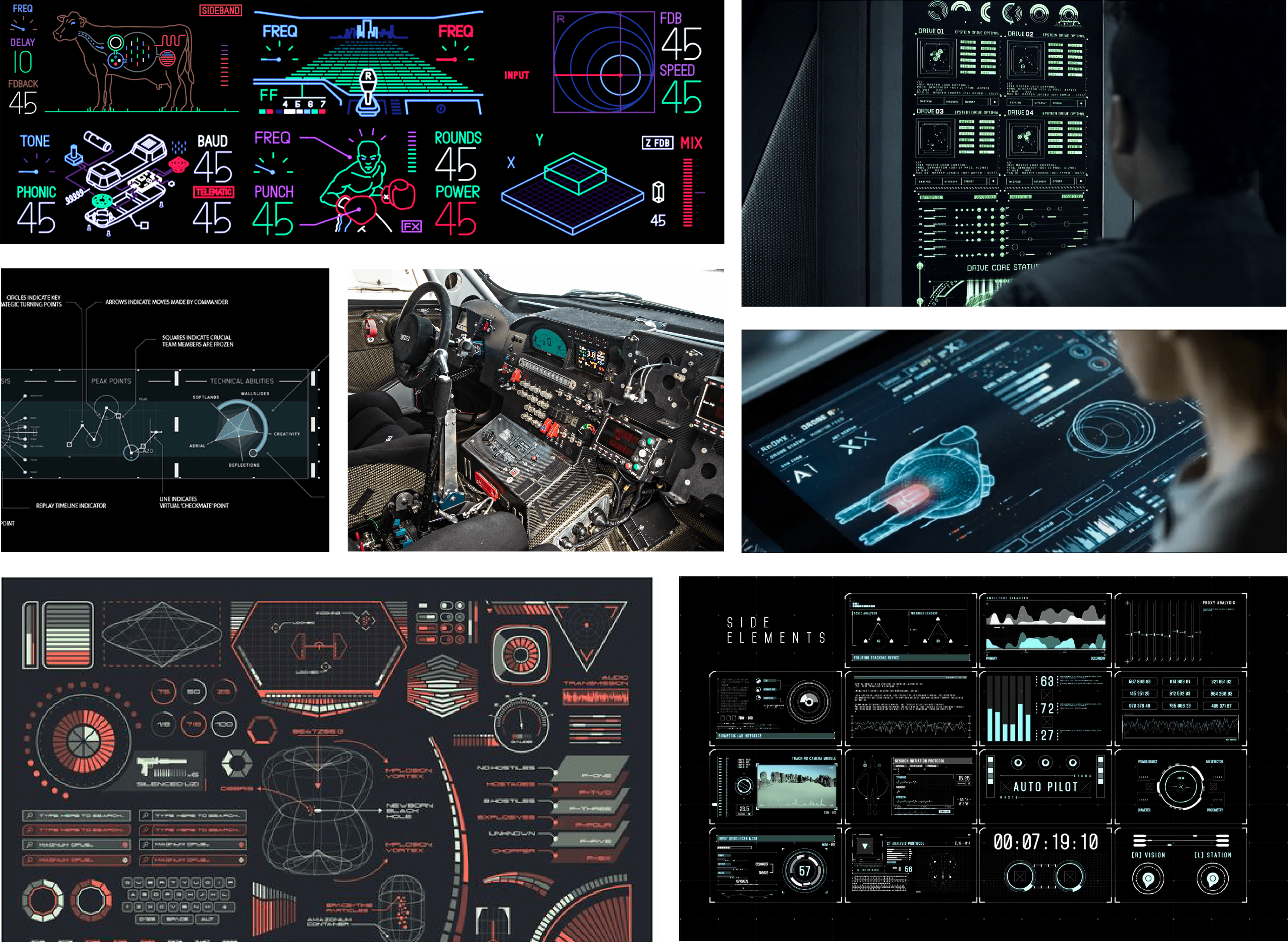 Our next step was brainstorming ways to control our interface, as the user is in full control of the mech they are unable to relieve their hands to interface with a touch screen or buttons. We looked at alternate grips, using rotary controller style grips like that on a bicycle gear shifter. This process needs more time for user testing and product development, so our efforts continued with a digital display. Tippett and our team broke down major components to piloting this machine, and broke it into 6 major screens:
Home page overview - a top down summary
GPS time & track location
Graph visualization, sensor data values vs time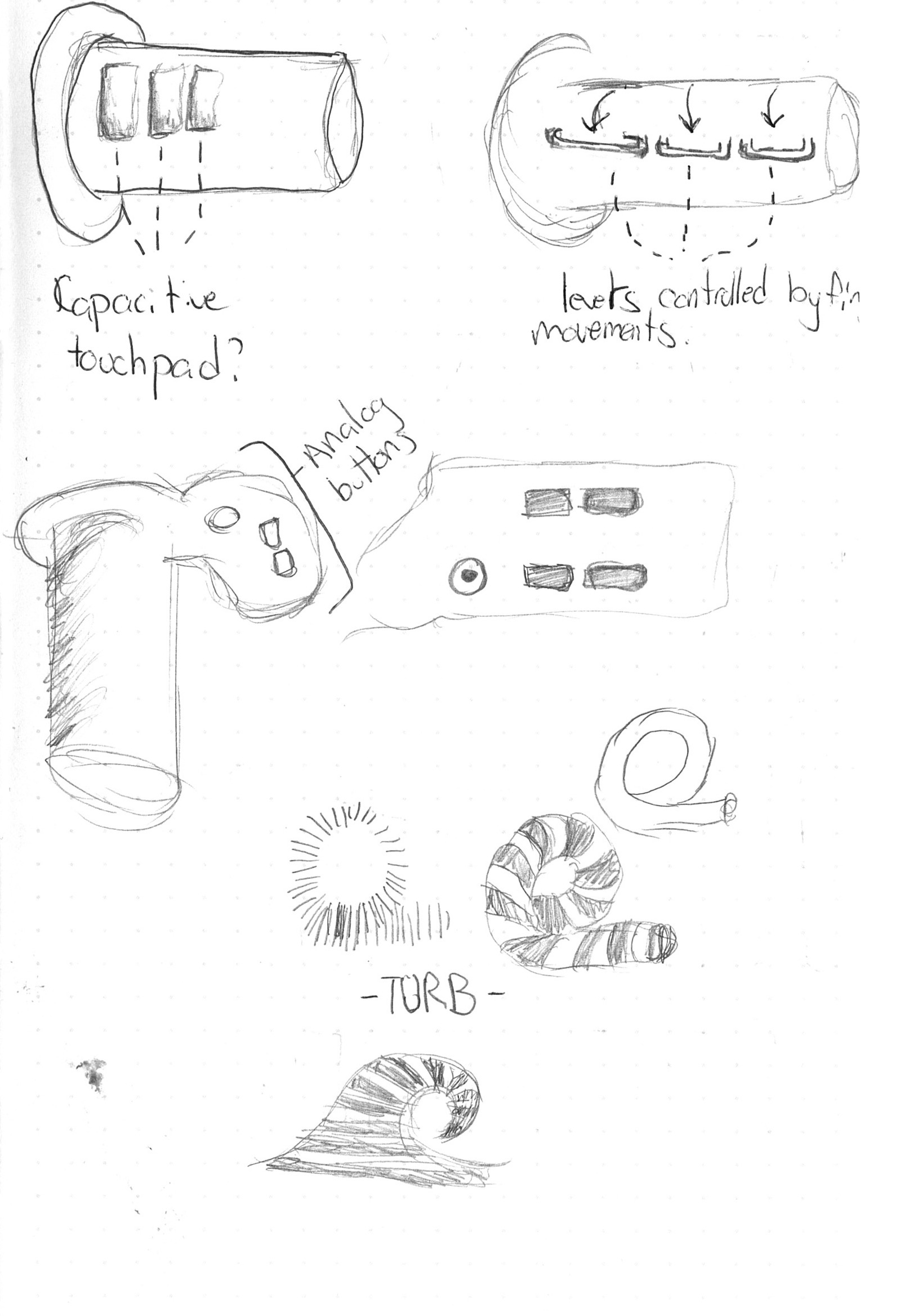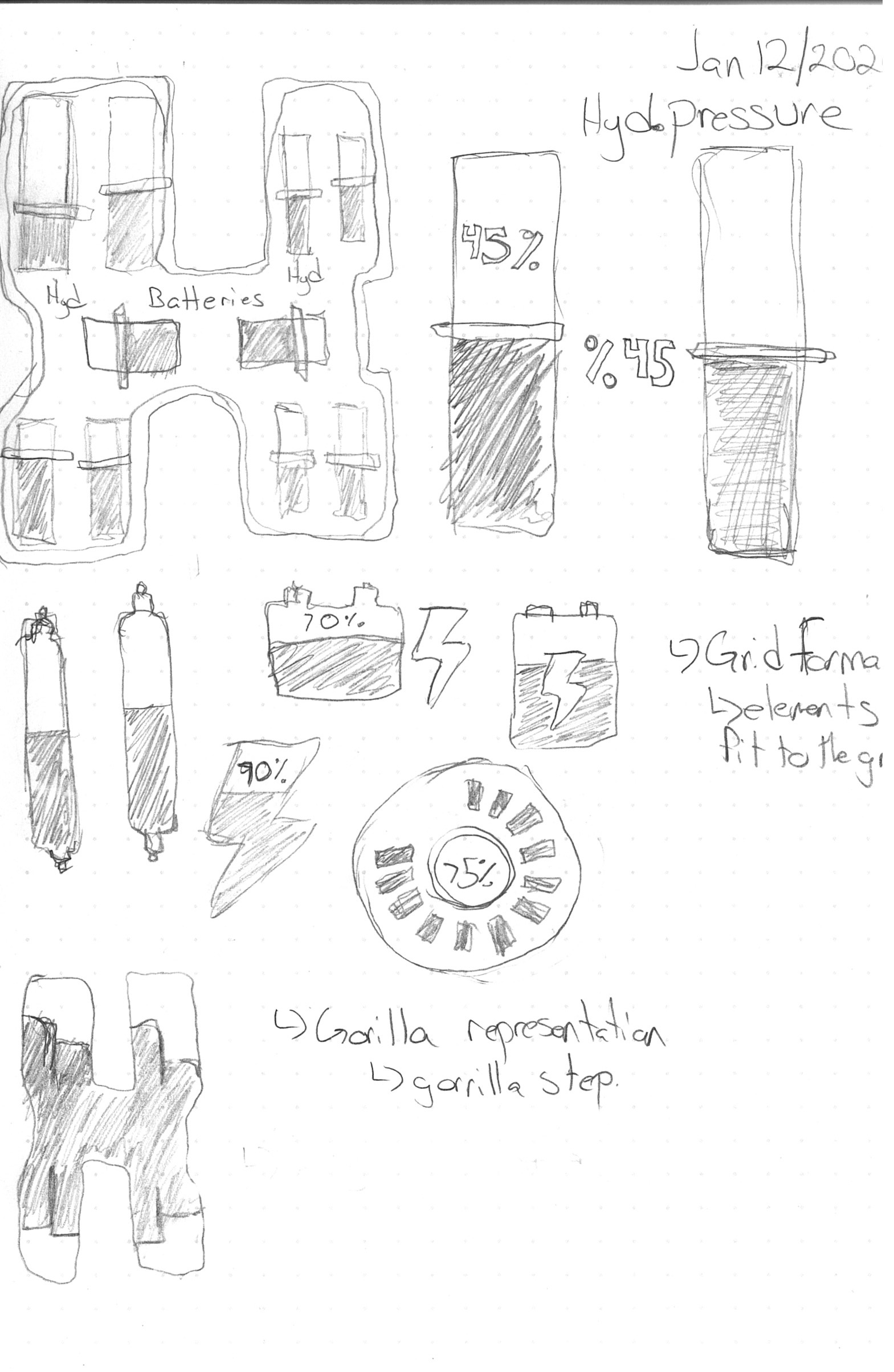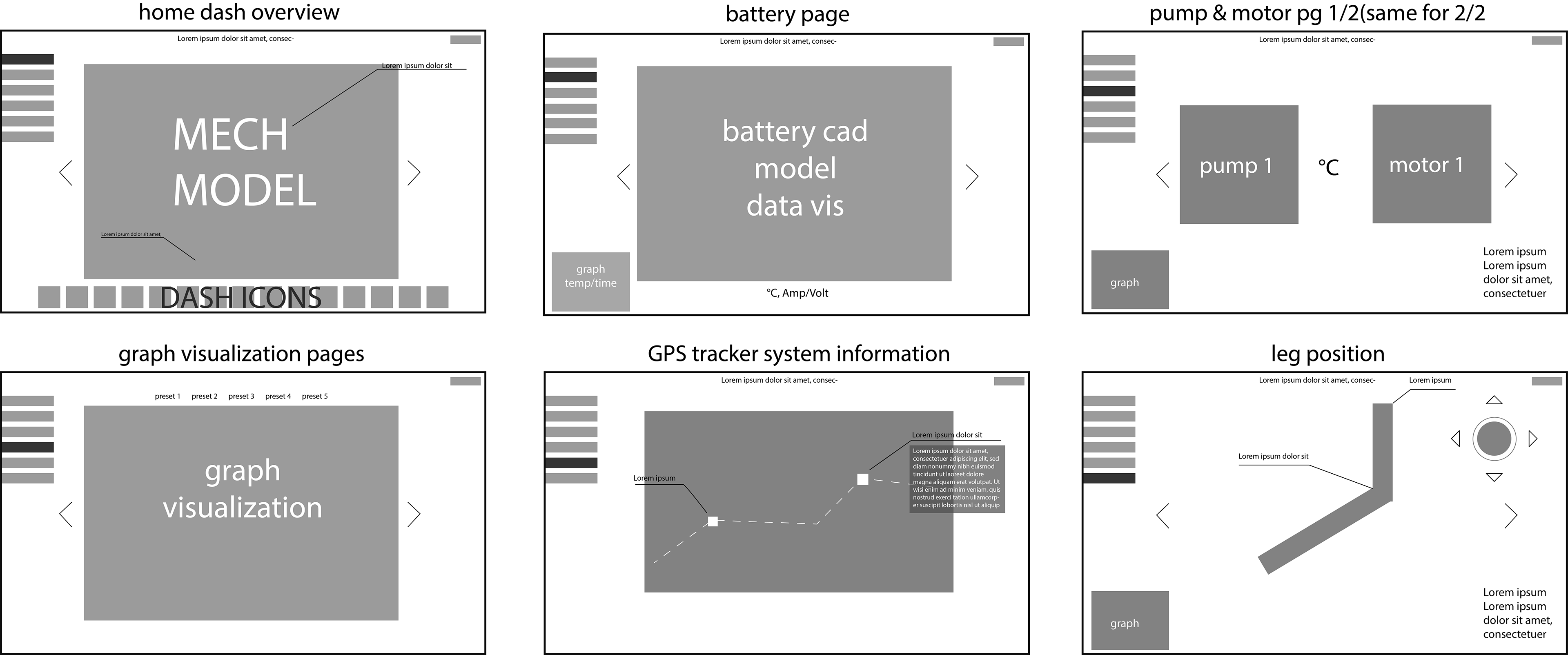 Iterations of Screen Development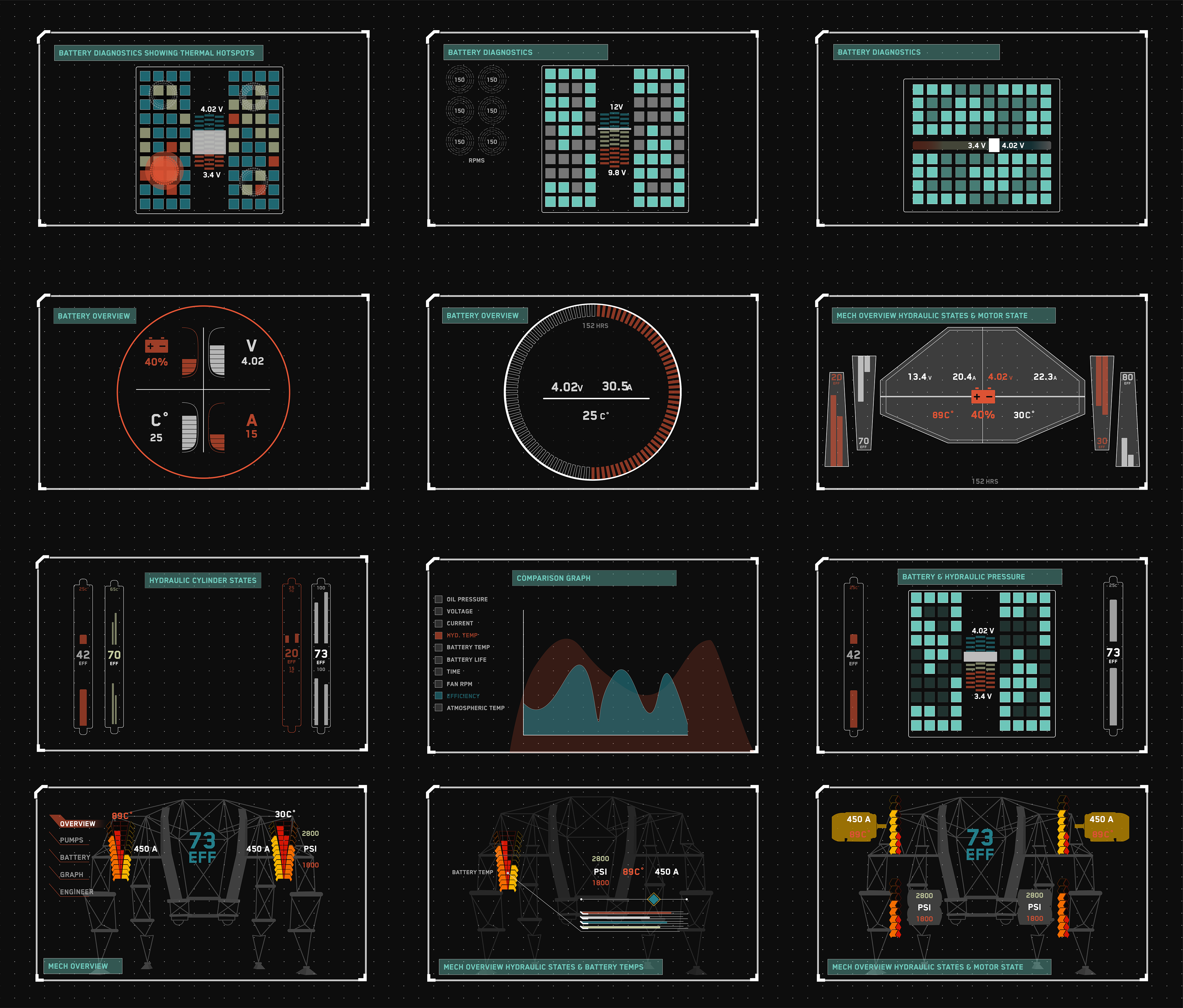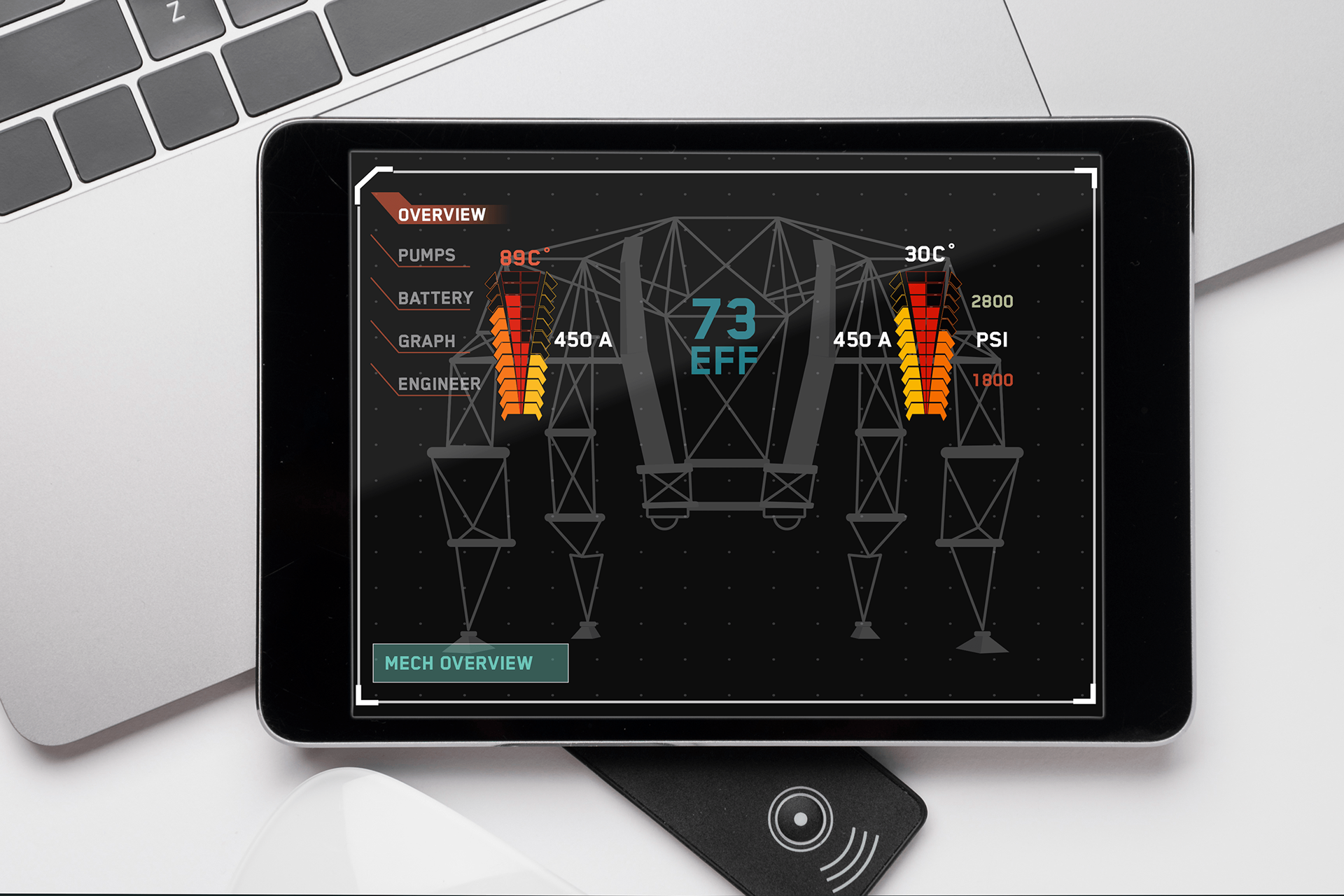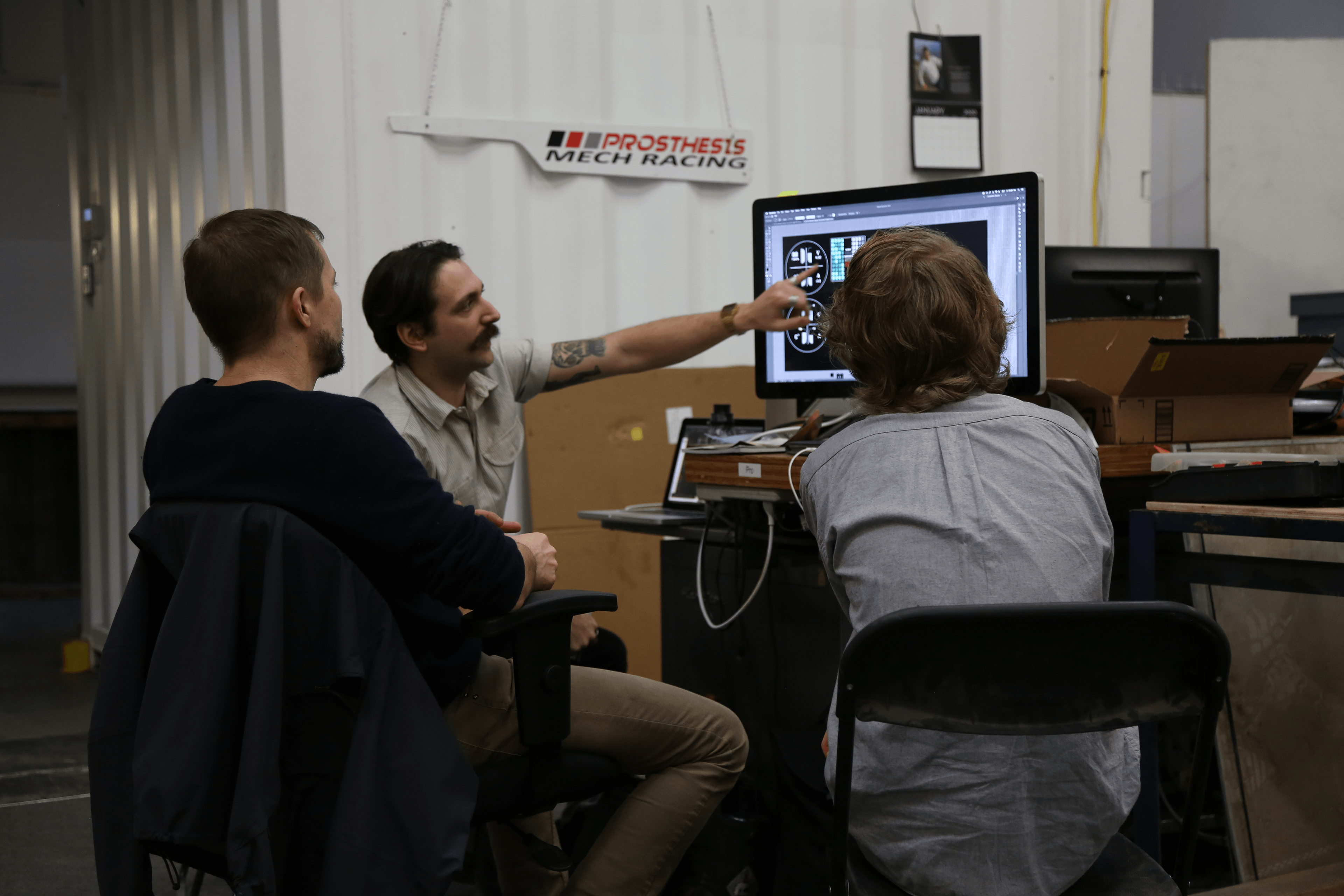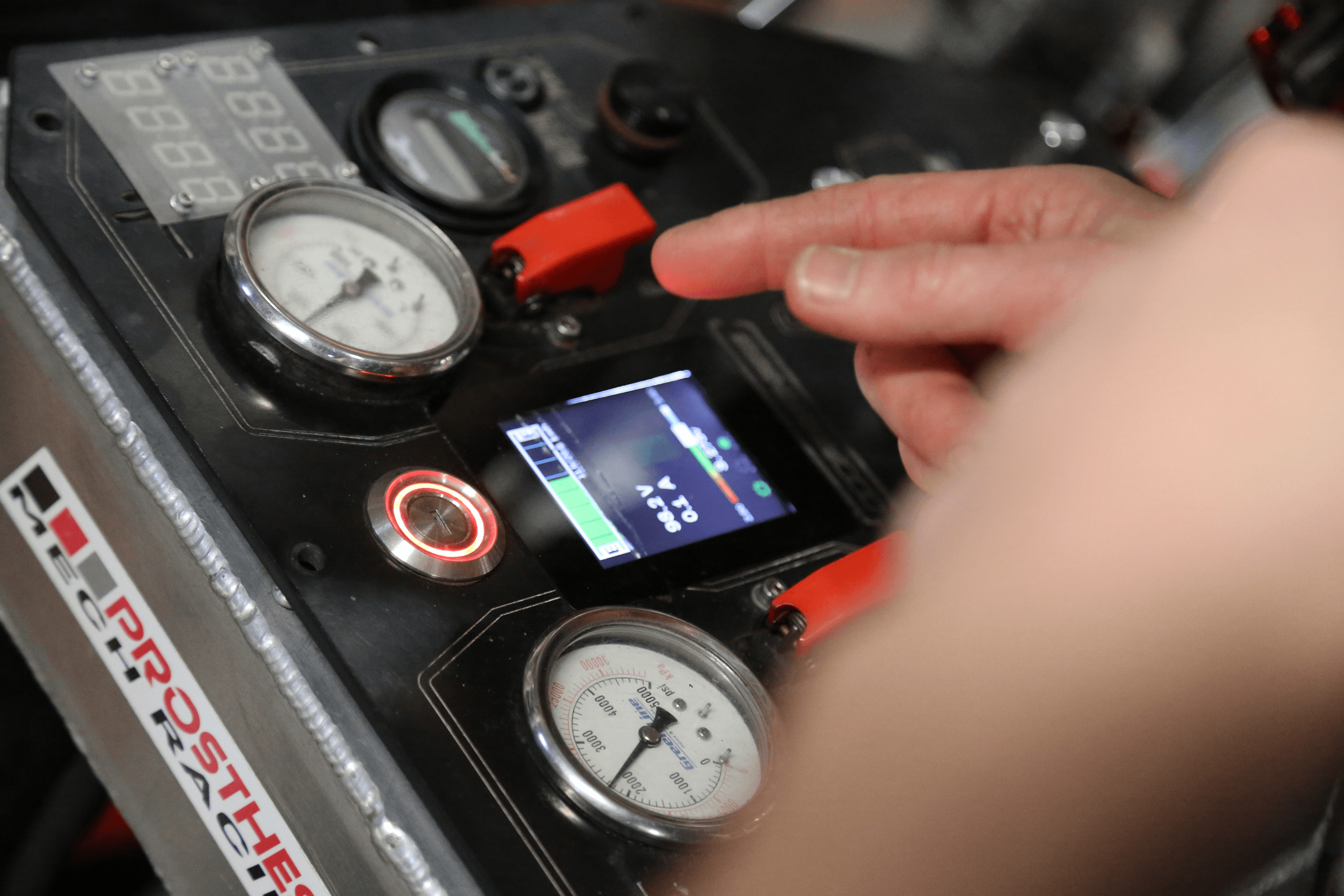 Ending our first month of this project, we understood some restraints when developing this project. With a period of 3 months we would be unable to fully expand a functioning unity interface, model a dashboard for it to live in and create controls for the pilot to navigate through. Our digital dashboard would need to fit within the console provided, be modular for engineer troubleshooting, dust and water proof IPX 7 and be completed in 2 months at this point of the process. With these road blocks we decided to pivot towards a real time analog interface, a task that was within our reach in the time frame we had. Our analog device would have shock absorbent mounts on the roll bars of the mech and be 3d printed with resin lenses powered by an Arduino teensy that reads data sent from the build in CANBUS of the mech and relays them to a series of led strips indicating pressure, temperature voltage and current. Currently the dashboard is located out of the pilots eye sight so our initiative was to put the pilots most important information in the direct line of sight.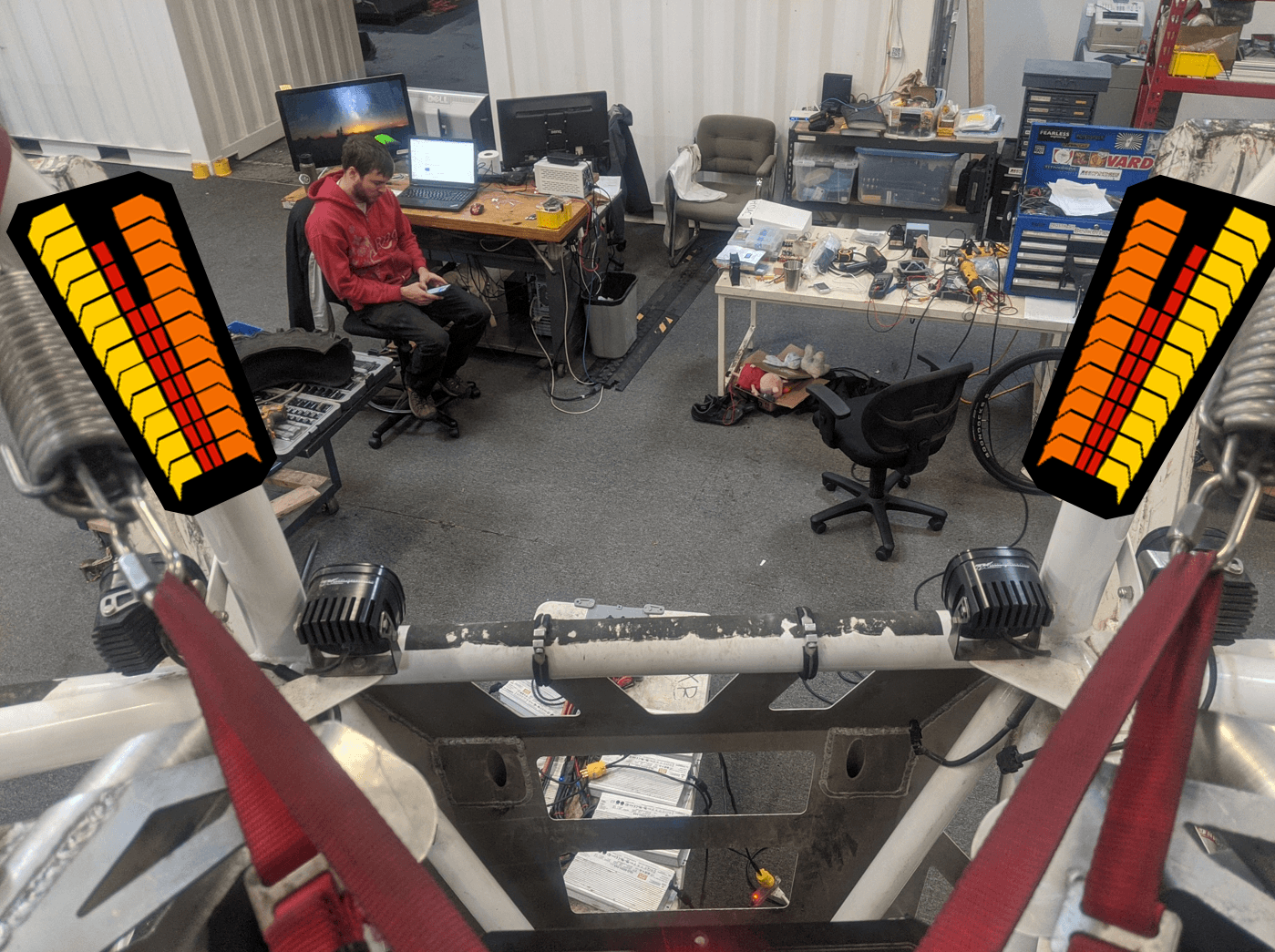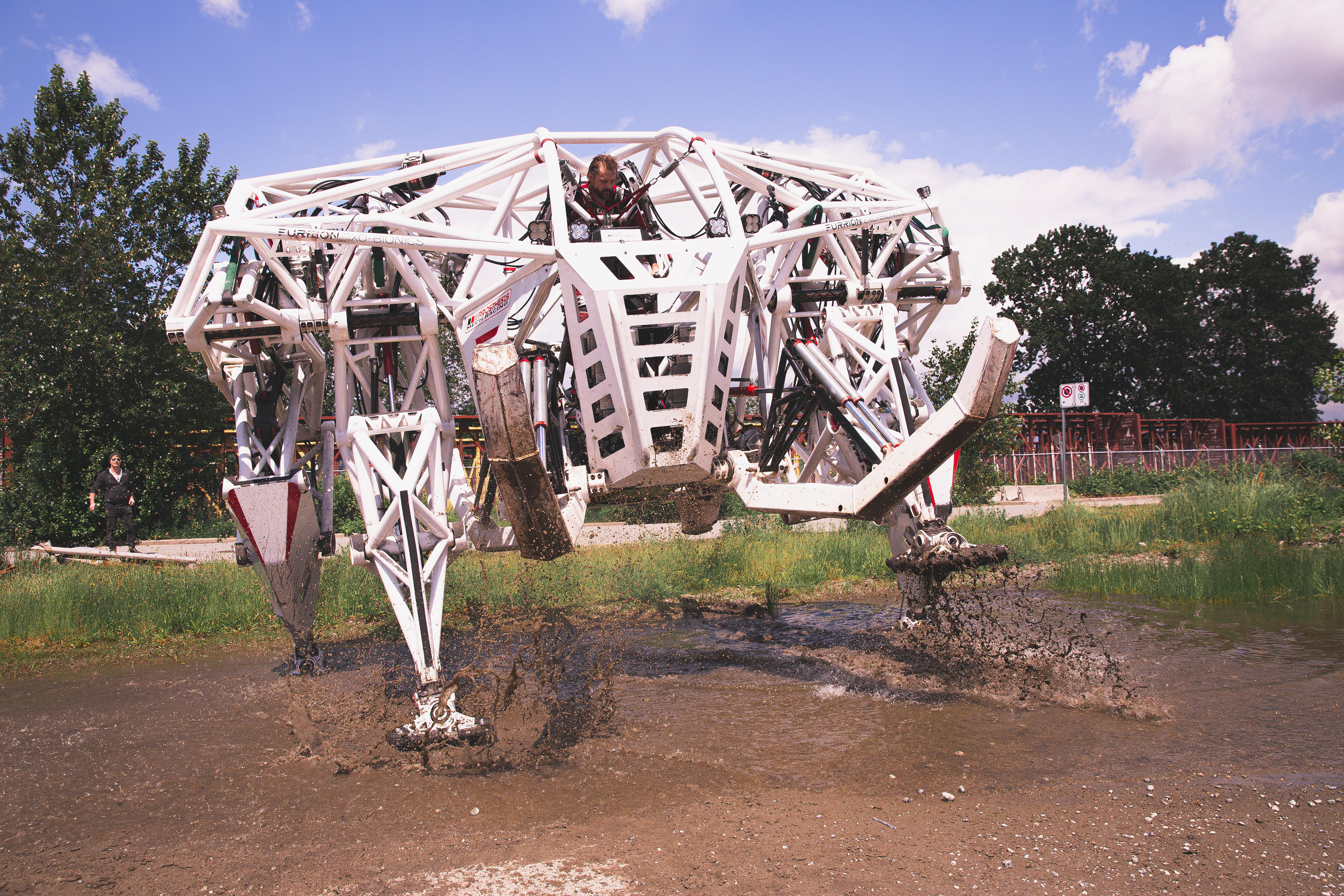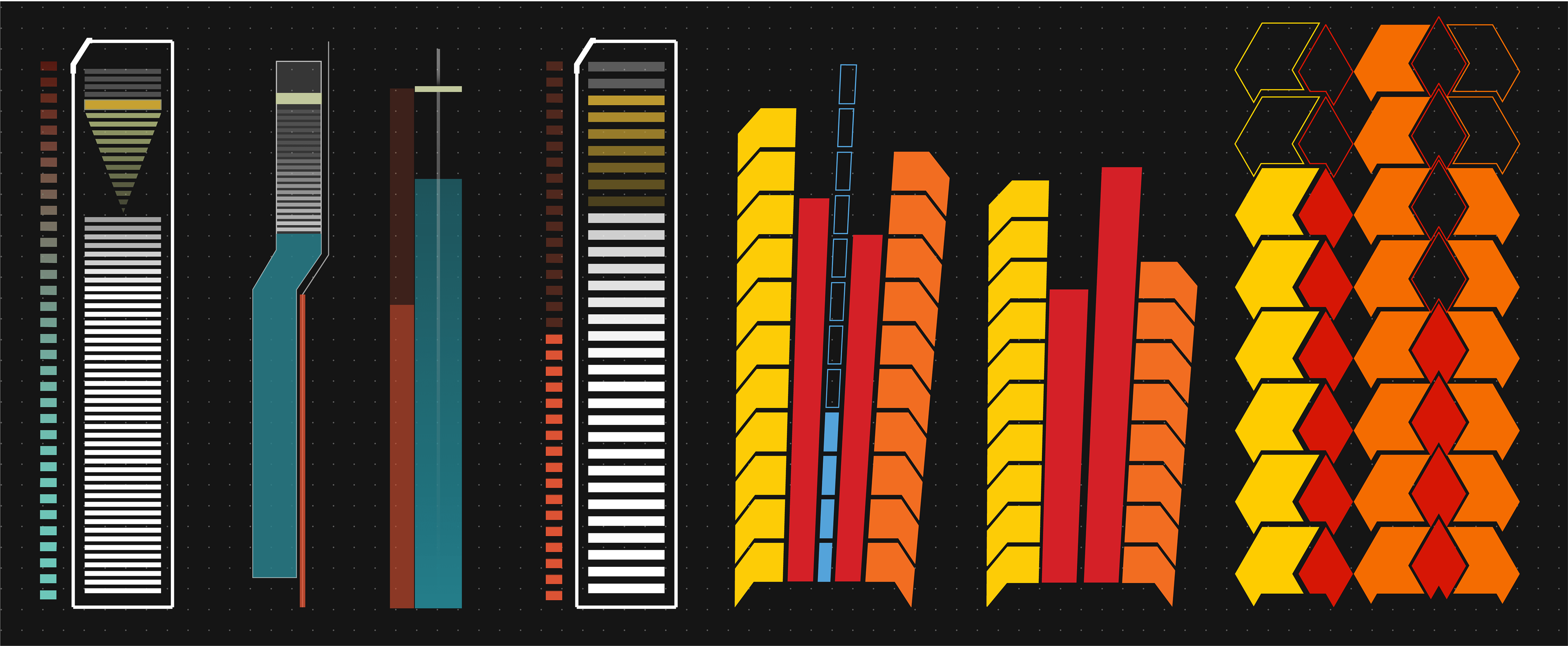 After agreeing upon a series of flat designs to interpret this data and user testing them with the pilot himself, our team prototyped 5 iterations of these designs using laser cutting to the correct format fitting the mech. We built a cardboard housing to fit the electronic components and tested each one to the Furrion teams liking. Landing on a final design we jumped into Solidworks and built a model to 3d print our next steps involved assembly and creating a connection between the CANBUS system and the analog interface itself.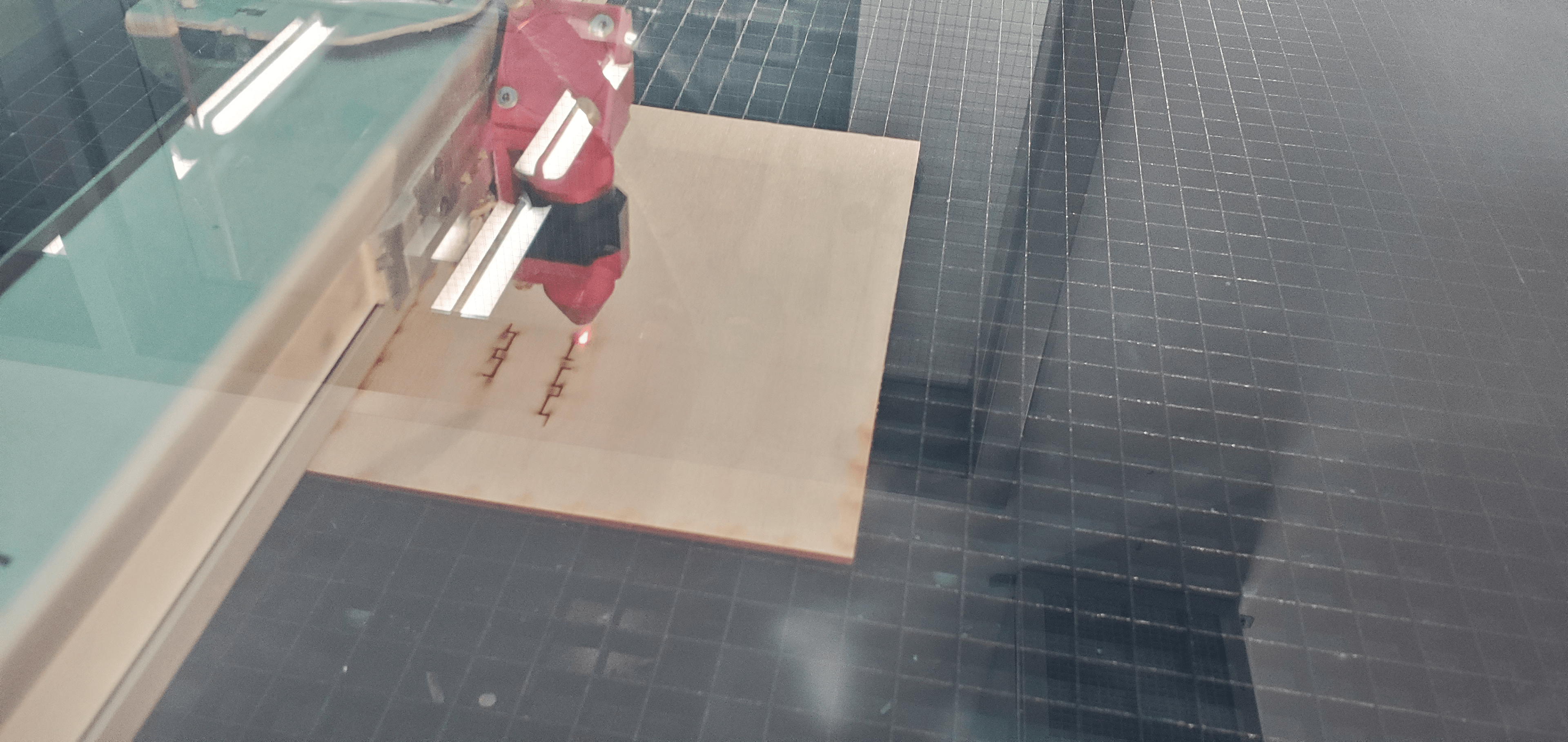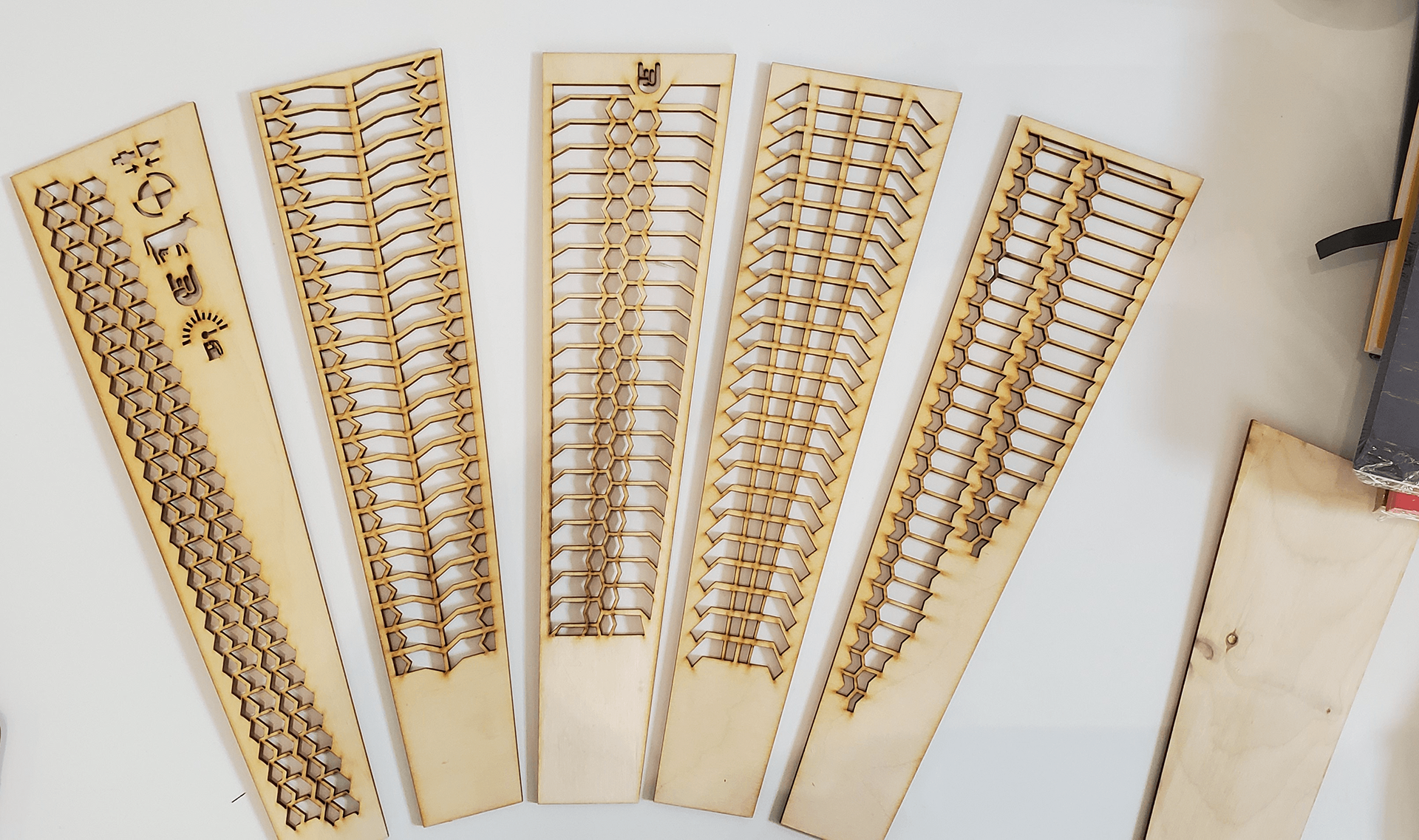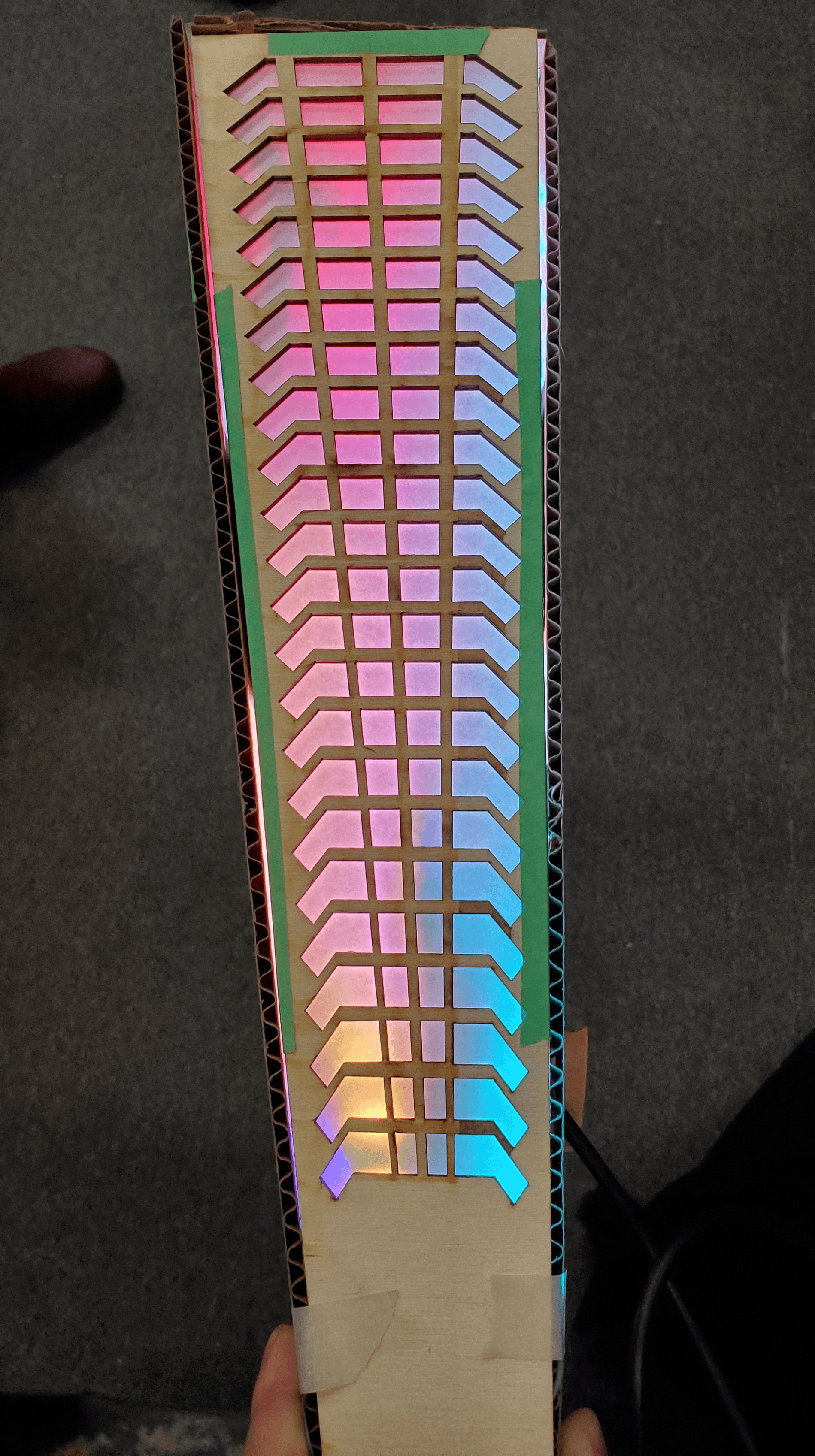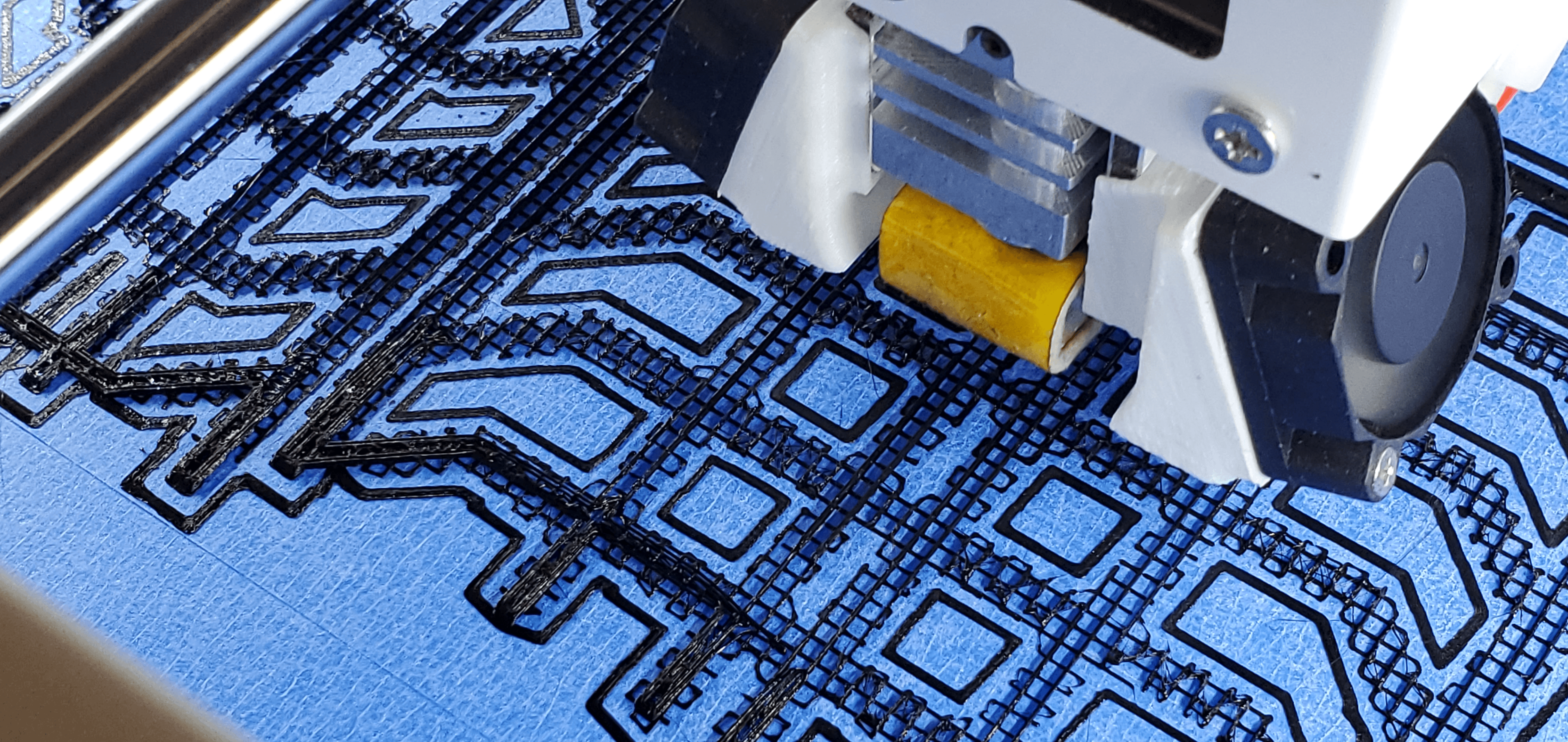 The final stages of our project hit an interruption because of covid-19, currently we need to assemble this piece and user test the movement and vibration when on the machine, and pour the lenses of the display. Stay tuned, as our research continues September 2020.